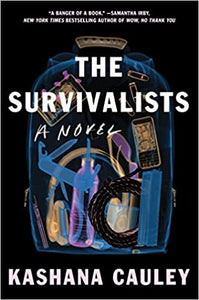 A single Black lawyer puts her career and personal moral code at risk when she moves in with her coffee entrepreneur boyfriend and his doomsday-prepping roommates in a novel that's packed with tension, curiosity, humor, and wit from a writer with serious comedy credentials.

In the wake of her parents' death, Aretha, a habitually single Black lawyer, has had only one obsession in life—success—until she falls for Aaron, a coffee entrepreneur. Moving into his Brooklyn brownstone to live along with his Hurricane Sandy-traumatized, illegal-gun-stockpiling, optimized-soy-protein-eating, bunker-building roommates, Aretha finds that her dreams of making partner are slipping away, replaced by an underground world, one of selling guns and training for a doomsday that's maybe just around the corner. 

For readers of Victor LaValle's The Changeling, Paul Beatty's The Sellout, and Zakiya Harris's The Other Black Girl, The Survivalists is a darkly humorous novel from a smart and relevant new literary voice that's packed with tension, curiosity and wit, and unafraid to ask the questions most relevant to a new generation of Americans: Does it make sense to climb the corporate ladder? What exactly are the politics of gun ownership? And in a world where it's nearly impossible for young people to earn enough money to afford stable housing, what does it take in order to survive?
About the Author
Kashana Cauley
 is a former Midtown antitrust lawyer and Brooklyn resident. She is a writer for the Fox comedy 
The Great North
, a contributing opinion writer for the 
New York Times
, and a 
GQ
 contributor. She's written for 
The Daily Show with Trevor Noah
 and 
Pod Save America
 on 
HBO
 as well as 
The Atlantic

, 

The New Yorker

, 

Pitchfork

, and 

Rolling Stone

, and has published fiction in 

Esquire

, 

Slate

, 

Tin House

, and 

The Chronicles of Now

. Kashana now lives in Los Angeles.
Language ‏ : ‎

 

English

Hardcover ‏ : ‎

 

288 pages

Item Weight ‏ : ‎

 

1.25 pounds



Dimensions ‏ : ‎

 

6.33 x 1 x 9.26 inches