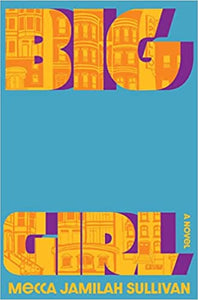 On sale July 12
Exquisitely compassionate and witty, Big Girl traces the intergenerational hungers and desires of Black womanhood, as told through the unforgettable voice of Malaya Clondon.
In her highly anticipated debut novel, Mecca Jamilah Sullivan explores the perils―and undeniable beauty―of insatiable longing.
Growing up in a rapidly changing Harlem, eight-year-old Malaya hates when her mother drags her to Weight Watchers meetings; she'd rather paint alone in her bedroom or enjoy forbidden street foods with her father. For Malaya, the pressures of her predominantly white Upper East Side prep school are relentless, as are the expectations passed down from her painfully proper mother and sharp-tongued grandmother. As she comes of age in the 1990s, she finds solace in the music of Biggie Smalls and Aaliyah, but her weight continues to climb―until a family tragedy forces her to face the source of her hunger, ultimately shattering her inherited stigmas surrounding women's bodies, and embracing her own desire. Written with vibrant lyricism shot through with tenderness, Big Girl announces Sullivan as an urgent and vital voice in contemporary fiction.
About the Author
Mecca Jamilah Sullivan
 is an associate professor of English at Georgetown University, and the author of 
Blue Talk
 and 
Love
, winner of the Judith A. Markowitz Award from Lambda Literary. A native of Harlem, she lives in Philadelphia, Pennsylvania.
Language ‏ : ‎

 

English

Hardcover ‏ : ‎

 

288 pages

Item Weight ‏ : ‎

 

1.74 pounds