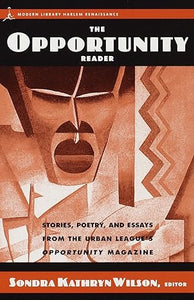 In 1923, the Urban League's Opportunity magazine made its first appearance. Spearheaded by the noted sociologist Charles S. Johnson, it became, along with the N.A.A.C.P.'s Crisis magazine, one of the vehicles that drove the art and literature of the Harlem Renaissance. As a way of attracting writers such as Langston Hughes and Zora Neale Hurston, Johnson conducted literary contests that were largely funded by Casper Holstein, the infamous Harlem numbers gangster, who contributed several essays in addition to money.
        Dorothy West, Nella Larsen, and Arthur Schomburg were among Opportunity's contributors. Many of the pieces included in The Opportunity Reader have not been seen since their publication in the magazine, whose motto was "Not alms, but opportunity."

The fertile artistic period now known as the Harlem Renaissance (1920-1930) gave birth to many of the world-renowned masters of black literature and is the model for today's renaissance of black writers.
About the Author
Sondra Kathryn Wilson, Ph.D., is a researcher at Harvard University's W. E. B. Du Bois Institute. She is the literary executor of the James Weldon Johnson estate, and the editor of several volumes of his work. She is also the editor of Modern Library's The Crisis Reader. She lives in New York City.
Language ‏ : ‎

 

English

Paperback ‏ : ‎

 

576 pages

Item Weight ‏ : ‎

 

1.51 pounds



Dimensions ‏ : ‎

 

5.5 x 1.25 x 8.5 inches