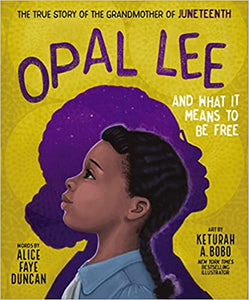 The True Story of the Grandmother of Juneteenth
Black activist Opal Lee had a vision of Juneteenth as a holiday for everyone. This true story celebrates Black joy and inspires children to see their dreams blossom. Growing up in Texas, Opal knew the history of Juneteenth, but she soon discovered that many Americans had never heard of the holiday. Join Opal on her historic journey to recognize and celebrate "freedom for all."
Every year, Opal looked forward to the Juneteenth picnic—a drumming, dancing, delicious party. She knew from Granddaddy Zak's stories that Juneteenth celebrated the day the freedom news of President Lincoln's Emancipation Proclamation finally sailed into Texas in 1865—over two years after the president had declared it! But Opal didn't always see freedom in her Texas town. Then one Juneteenth day when Opal was twelve years old, an angry crowd burned down her brand-new home. This wasn't freedom at all. She had to do something! But could one person's voice make a difference? Could Opal bring about national recognition of Juneteenth? Follow Opal Lee as she fights to improve the future by honoring the past.
Through the story of Opal Lee's determination and persistence, children ages 4 to 8 will learn:
all people are created equal

the power of bravery and using your voice for change

the history of Juneteenth, or Freedom Day, and what it means today

no one is free unless everyone is free

fighting for a dream is worth the difficulty experienced along the way
Featuring the illustrations of New York Times bestselling illustrator Keturah A. Bobo (I am Enough), Opal Lee and What It Means to Be Free by Alice Faye Duncan celebrates the life and legacy of a modern-day Black leader while sharing a message of hope, unity, joy, and strength.
About the Author
Alice Faye Duncan is a National Board Certified Teacher, who writes for young learners. Memory is her motivation. She writes to help children remember important moments from African American history. Her books are celebrated for vivid imagery and lyrical texts that sound like music. Alice's most popular titles include A Song for Gwendolyn Brooks; Just Like a Mama; Honey Baby Sugar Child; and Memphis, Martin, and the Mountaintop, which received a 2019 Coretta Scott King Honor Medal. Alice lives in Memphis, Tennessee, where at a young age, her mother nurtured her writing talent with prayer, poetry books, and praise. Her website is www.alicefayeduncan.com.
Keturah A. Bobo is an artist and New York Times bestselling illustrator known for creating vibrant images that are relatable and distinguishable. She is passionate about creating art that inspires, uplifts, and advocates for her community. Keturah has received notable praises for her colorful illustrative style that brings the story to life and resonates with the viewer. She graduated with a BFA from Columbus College of Art and Design and lives in Columbus, Ohio, with her family of entrepreneurs. Visit Keturah online at www.keturahariel.com.
Language ‏ : ‎

 

English

Hardcover ‏ : ‎

 

32 pages

Reading age ‏ : ‎

 

5 - 10 years, from customers



Grade level ‏ : ‎

 

Preschool - 3

Item Weight ‏ : ‎

 

1.08 pounds

Dimensions ‏ : ‎

 

9.3 x 0.4 x 11.1 inches