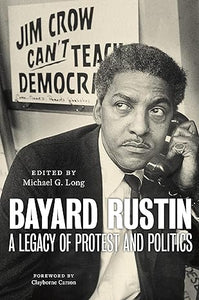 Celebrates the life and legacy of Bayard Rustin, the civil rights leader behind the 1963 March on Washington for Jobs and Freedom

While we can all recall images of Martin Luther King Jr. giving his "I Have a Dream" speech in front of a massive crowd at Lincoln Memorial, few of us remember the man who organized this watershed nonviolent protest in eight short weeks: Bayard Rustin.

This was far from Rustin's first foray into the fight for civil rights. As a world-traveling pacifist, he brought Gandhi's protest techniques to the forefront of US civil rights demonstrations, helped build the Southern Christian Leadership Conference, led the fight for economic justice, and played a deeply influential role in the life of Dr. King by helping to mold him into an international symbol of nonviolent resistance. Rustin's legacy touches many areas of contemporary life―from civil resistance to violent uprisings, democracy to socialism, and criminal justice reform to war resistance.

Despite these achievements, Rustin was often relegated to the background. He was silenced, threatened, arrested, beaten, imprisoned, and fired from important leadership positions, largely because he was an openly gay man in a fiercely homophobic era. With expansive, searching, and sometimes critical essays from a range of esteemed writers―including Rustin's own partner, Walter Naegle―this volume draws a full picture of Bayard Rustin: a gay, pacifist, socialist political radical who changed the course of US history and set a precedent for future civil rights activism, from LGBTQ+ Pride to Black Lives Matter.
About the Author
Michael G. Long
 writes about civil rights, nonviolent protest, and gender and sexuality. He's the editor of 42 Today: Jackie Robinson and His Legacy, as well as the author and editor of several books on Bayard Rustin, including Unstoppable: How Bayard Rustin Organized the 1963 March on Washington, Troublemaker for Justice: Bayard Rustin, the Man Behind the March on Washington, and I Must Resist: Bayard Rustin's Life in Letters.
Language ‏ : ‎

 

English

Hardcover ‏ : ‎

 

256 pages

Item Weight ‏ : ‎

 

1.2 pounds



Dimensions ‏ : ‎

 

6 x 1.2 x 9.1 inches