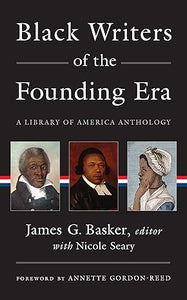 A radical new vision of the nation's founding era and a major act of historical recovery

Featuring more than 120 writers, this groundbreaking anthology reveals the astonishing richness and diversity of Black experience in the turbulent decades of the American Revolution

Black Writers of the Founding Era is the most comprehensive anthology ever published of Black writing from the turbulent decades surrounding the birth of the United States. An unprecedented archive of historical sources––including more than 200 poems, letters, sermons, newspaper advertisements, slave narratives, testimonies of faith and religious conversion, criminal confessions, court transcripts, travel accounts, private journals, wills, petitions for freedom, even dreams, by over 100 authors––it is a collection that reveals the surprising richness and diversity of Black experience in the new nation.

Here are writers both enslaved and free, loyalist and patriot, female and male, northern and southern; soldiers, seamen, and veterans; painters, poets, accountants, orators, scientists, community organizers, preachers, restaurateurs and cooks, hairdressers, criminals, carpenters, and many more. Along with long-famous works like Phillis Wheatley's poems and Benjamin Banneker's astonishing mathematical and scientific puzzles are dozens of first-person narratives offering little-known Black perspectives on the events of the times, like the Boston Massacre and the death of George Washington.

From their bold and eloquent contributions to public debates about the meanings of the revolution and the values of the new nation–– writings that dramatize the many ways in which protest, activism, and community organizing have been integral to the Black American experience from the beginning––to their intimate thoughts preserved in private diaries and letters, some unseen to the present day, the words of the many writers gathered here will indelibly alter our understandings of American history.

A foreword by Annette Gordon-Reed and an introduction by James G. Basker, along with introductory headnotes and explanatory notes drawing on cutting edge scholarship, illuminate these writers' works and to situate them in their historical contexts.

A 16-page color photo insert presents portraits of some of the writers included and images of the original manuscripts, broadside, and books in which their words have been preserved.
About the Author
James G. Basker
, editor, is President of the Gilder Lehrman Institute of American History and Richard Gilder Professor of Literary History at Barnard College, Columbia University. He has written and edited many books including, for Library of America, 
American Antislavery Writings: Colonial Beginnings to Emancipation
(2012).


Nicole Seary
 is Senior Editor at the Gilder Lehrman Institute of American History.
Language ‏ : ‎

 

English

Hardcover ‏ : ‎

 

750 pages

Item Weight ‏ : ‎

 

1.48 pounds



Dimensions ‏ : ‎

 

5.2 x 1.26 x 8.15 inches