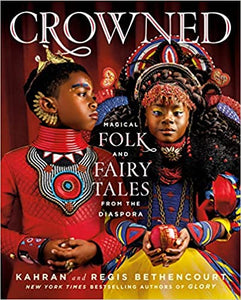 Includes a foreword by Salamishah Tillet

CROWNED by Kahran and Regis Bethencourt is a book designed to foster and encourage imagination, equipping young kings and queens with the creativity and ability to overcome any obstacles in their way.

Filled with stunning photography, these magical tales of the diaspora bring to life past, present, and future visions of Black culture to create a society where all kids are created equal and feel empowered to move in the world as their true authentic self.

Included in the collection:

The Poisoned Apple

Asha the Little Cinder Girl

The Little Mermaid

Sleeping Beauty

Hansel and Gretel

Little Red Riding Hood

Anasi and the Three Trials

Aku The Sun Maker

How the Zebra Got His Stripes

The Legend of Princess Yennenga

John Henry, the Steel Driving Man

The Cloud Princess

And more!

This collection is a must-have for children and parents everywhere and is a joyous celebration of Black beauty and imagination.
About the Author
Regis and Kahran Bethencourt are a husband-and-wife duo and the imaginative forces behind CreativeSoul Photography. With more than ten years of working with hundreds of children, families and brands, they specialize in child and lifestyle photography while incorporating authentic visual storytelling. As artists, CreativeSoul Photography is committed to helping kids and brands create fascinating imagery by operating as a one-stop shop offering expert creative direction, vision, planning, strategy, and execution. They've worked with brands small and large around the globe such as Disney, Amazon, Just for Me, CurlyKids Haircare, CamilleRose Haircare and more.
Language ‏ : ‎

 

English

Hardcover ‏ : ‎

 

272 pages

Item Weight ‏ : ‎

 

1 pounds



Dimensions ‏ : ‎

 

8.45 x 0.95 x 10.35 inches