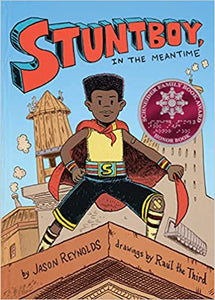 From Newbery Medal honoree and #1 New York Times bestselling author Jason Reynolds comes a hilarious, hopeful, and action-packed middle grade novel about the greatest young superhero you've never heard of, filled with illustrations by Raúl the Third!

Portico Reeves's superpower is making sure all the other superheroes—like his parents and two best friends—stay super. And safe. Super safe. And he does this all in secret. No one in his civilian life knows he's actually…Stuntboy!

But his regular Portico identity is pretty cool, too. He lives in the biggest house on the block, maybe in the whole city, which basically makes it a castle. His mom calls where they live an apartment building. But a building with fifty doors just in the hallways is definitely a castle. And behind those fifty doors live a bunch of different people who Stuntboy saves all the time. In fact, he's the only reason the cat, New Name Every Day, has nine lives.

All this is swell except for Portico's other secret, his not-so-super secret. His parents are fighting all the time. They're trying to hide it by repeatedly telling Portico to go check on a neighbor "in the meantime." But Portico knows "meantime" means his parents are heading into the Mean Time which means they're about to get into it, and well, Portico's superhero responsibility is to save them, too—as soon as he figures out how.

Only, all these secrets give Portico the worry wiggles, the frets, which his mom calls anxiety. Plus, like all superheroes, Portico has an arch-nemesis who is determined to prove that there is nothing super about Portico at all
About the Author
Jason Reynolds is a #1 
New York Times
 bestselling author, a Newbery Award Honoree, a Printz Award Honoree, a two-time National Book Award finalist, a Kirkus Award winner, a Carnegie Medal winner, a two-time Walter Dean Myers Award winner, an NAACP Image Award Winner, and the recipient of multiple Coretta Scott King honors. He's also the 2020–2022 National Ambassador for Young People's Literature. His many books include 
All American Boys
 (cowritten with Brendan Kiely); 
When I Was the Greatest
; 
The Boy in the Black Suit
; 
Stamped
; 
As Brave as You
; 
For Every One
; the Track series (
Ghost
, 
Patina
, 
Sunny
, and 
Lu
); 
Look Both Ways
; 
Stuntboy, in the Meantime
; 
Ain't Burned All the Bright
; 
My Name Is Jason. Mine Too. 
(with Jason Griffin); and 
Long Way Down
, which received a Newbery Honor, a Printz Honor, and a Coretta Scott King Honor. He lives in Washington, DC. You can find his ramblings at JasonWritesBooks.com.

Raúl the Third is an award-winning illustrator, author, and artist living in Boston. His work centers around the contemporary Mexican American experience and his memories of growing up in El Paso, Texas, and Ciudad Juárez, Mexico. Raúl contributed to the SpongeBob Comics series and illustrated the Texas Bluebonnet Award–winning 
Lowriders in Space
 and the Pura Belpré Award–winning 
Lowriders to the Center of the Earth
, both written by Cathy Camper. His illustrations are also featured in the middle grade novel 
Stuntboy, in the Meantime
by Jason Reynolds.
Language ‏ : ‎

 

English

Hardcover ‏ : ‎

 

272 pages

Reading age ‏ : ‎

 

7 - 12 years



Grade level ‏ : ‎

 

2 - 7



Item Weight ‏ : ‎

 

1.62 pounds

Dimensions ‏ : ‎

 

6 x 0.9 x 8.5 inches