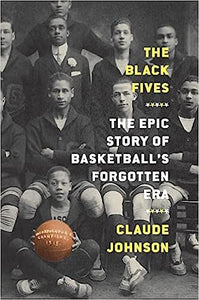 A groundbreaking, timely history of the largely unknown early days of Black basketball, bringing to life the trailblazing players, teams, and impresarios who made the game

From the introduction of the game of basketball to Black communities on a wide scale in 1904 to the racial integration of the NBA in 1950, dozens of African American teams were founded and flourished. This period, known as the Black Fives Era (teams at the time were often called "fives"), was a time of pioneering players and managers. They battled discrimination and marginalization and created culturally rich, socially meaningful events. But despite headline-making rivalries between big-city clubs, the savvy moves of innovative businessmen, and the undeniable talent of star players, this period is almost entirely unknown to basketball fans.

Claude Johnson has made it his mission to change that. An advocate fiercely committed to our history, for more than two decades Johnson has conducted interviews, mined archives, collected artifacts, and helped to preserve this historically important African American experience that otherwise would have been lost. The Black Fives is the result of his work, a landmark narrative history that braids together the stories of these forgotten pioneers and rewrites our understanding of the story of basketball.
About the Author
Claude Johnson
 is a historian and founder of the Black Fives Foundation. He has a BS in civil engineering and economics from Carnegie Mellon and an MS in mechanical engineering from Stanford. During a 20-year career in corporate America, Johnson held management and executive positions at IBM, American Express, NBA Properties, Nike, Phat Farm, and Benetton Sportsystem. He left to become a stay-at-home dad to his three sons, two of whom are now Division I college football players (the third is a Division I high school basketball recruit). He lives in Greenwich, Connecticut.
Language ‏ : ‎

 

English

Hardcover ‏ : ‎

 

480 pages

Item Weight ‏ : ‎

 

1.75 pounds



Dimensions ‏ : ‎

 

6.45 x 1.85 x 9.25 inches