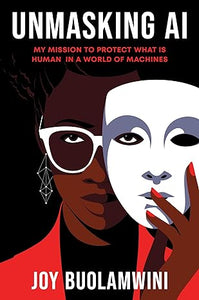 To most of us, it seems like recent developments in artificial intelligence emerged out of nowhere to pose unprecedented threats to humankind. But to Dr. Joy Buolamwini, who has been at the forefront of AI research, this moment has been a long time in the making.

After tinkering with robotics as a high school student in Memphis and then developing mobile apps in Zambia as a Fulbright fellow, Buolamwini followed her lifelong passion for computer science, engineering, and art to MIT in 2015. As a graduate student at the "Future Factory," she did groundbreaking research that exposed widespread racial and gender bias in AI services from tech giants across the world.

Unmasking AI goes beyond the headlines about existential risks produced by Big Tech. It is the remarkable story of how Buolamwini uncovered what she calls "the coded gaze"—the evidence of encoded discrimination and exclusion in tech products—and how she galvanized the movement to prevent AI harms by founding the Algorithmic Justice League. Applying an intersectional lens to both the tech industry and the research sector, she shows how racism, sexism, colorism, and ableism can overlap and render broad swaths of humanity "excoded" and therefore vulnerable in a world rapidly adopting AI tools. Computers, she reminds us, are reflections of both the aspirations and the limitations of the people who create them.

Encouraging experts and non-experts alike to join this fight, Buolamwini writes, "The rising frontier for civil rights will require algorithmic justice. AI should be for the people and by the people, not just the privileged few."
About the Author
Dr. Joy Buolamwini
 is the founder of the Algorithmic Justice League, a groundbreaking researcher, and a renowned speaker. Her writing has been featured in publications such as 
Time, The New York Times, Harvard Business Review, 
and
The Atlantic.
 As the Poet of Code, she creates art to illuminate the impact of artificial intelligence on society and advises world leaders on preventing AI harms. She is the recipient of numerous awards, including the Rhodes Scholarship, the inaugural Morals & Machines Prize, and the Technological Innovation Award from the Martin Luther King Jr. Center for Nonviolent Social Change. Her MIT research on facial recognition technologies is featured in the Emmy-nominated documentary 
Coded Bias
. Born in Canada to Ghanaian immigrants, Buolamwini lives in Cambridge, Massachusetts.
Language ‏ : ‎

 

English

Hardcover ‏ : ‎

 

336 pages

Item Weight ‏ : ‎

 

1.05 pounds



Dimensions ‏ : ‎

 

5.75 x 1.16 x 8.5 inches