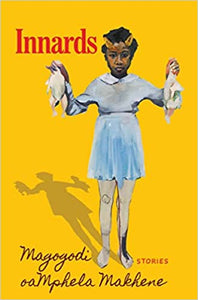 This incendiary debut of linked stories narrates the everyday lives of Soweto residents, from the early years of apartheid to its dissolution and beyond.
Set in Soweto, the urban heartbeat of South Africa, Innards tells the intimate stories of everyday black folks processing the savagery of apartheid with grit, wit, and their own distinctive bewildering humor. Rich with the thrilling textures of township language and life, it braids the voices and perspectives of an indelible cast of characters into a breathtaking collection flush with forgiveness, rage, ugliness, and beauty. Meet a fake PhD and ex-freedom fighter who remains unbothered by his own duplicity, a girl who goes mute after stumbling upon a burning body, twin siblings nursing a scorching feud, and a woman unraveling under the weight of a brutal encounter with the police. At the heart of these stories about deceit and ambition, appalling violence, familial turmoil, and love is South Africa's history of slavery, colonization, and apartheid. Like many Americans today, Innards' characters must navigate the shadows of the recent past alongside the uncertain opportunities of the promised land.
Full to bursting with life, in all its complexities and vagaries, Innards is an uncompromising depiction of black South Africa. Visceral and tender, it heralds the arrival of a major new voice in contemporary fiction.
About the Author
Magogodi oaMphela Makhene
 is a proudly Soweto-made soul, who now makes her home anywhere with sunshine and writing space. An Iowa Writers' Workshop alum, Magogodi is a Caine Prize, Hedgebrook, MacDowell and Rona Jaffe Award honoree. She leads immersive courses and experiences at Love As A Kind of Cure, a social enterprise she co-founded to dismantle white supremacy.
Language ‏ : ‎

 

English

Hardcover ‏ : ‎

 

224 pages

Item Weight ‏ : ‎

 

11.7 ounces



Dimensions ‏ : ‎

 

5.8 x 0.9 x 8.6 inches