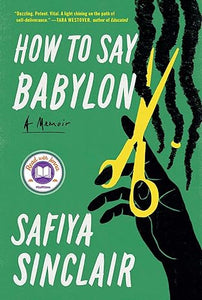 How to Say Babylon is the stunning story of the author's struggle to break free of her rigid Rastafarian upbringing, ruled by her father's strict patriarchal views and repressive control of her childhood, to find her own voice as a woman and poet.

Throughout her childhood, Safiya Sinclair's father, a volatile reggae musician and militant adherent to a strict sect of Rastafari, became obsessed with her purity, in particular, with the threat of what Rastas call Babylon, the immoral and corrupting influences of the Western world outside their home. He worried that womanhood would make Safiya and her sisters morally weak and impure, and believed a woman's highest virtue was her obedience.

In an effort to keep Babylon outside the gate, he forbade almost everything. In place of pants, the women in her family were made to wear long skirts and dresses to cover their arms and legs, head wraps to cover their hair, no make-up, no jewelry, no opinions, no friends. Safiya's mother, while loyal to her father, nonetheless gave Safiya and her siblings the gift of books, including poetry, to which Safiya latched on for dear life. And as Safiya watched her mother struggle voicelessly for years under housework and the rigidity of her father's beliefs, she increasingly used her education as a sharp tool with which to find her voice and break free. Inevitably, with her rebellion comes clashes with her father, whose rage and paranoia explodes in increasing violence. As Safiya's voice grows, lyrically and poetically, a collision course is set between them.

How to Say Babylon is Sinclair's reckoning with the culture that initially nourished but ultimately sought to silence her; it is her reckoning with patriarchy and tradition, and the legacy of colonialism in Jamaica. Rich in lyricism and language only a poet could evoke, How to Say Babylon is both a universal story of a woman finding her own power and a unique glimpse into a rarefied world we may know how to name, Rastafari, but one we know little about.
About the Author
Safiya Sinclair was born and raised in Montego Bay, Jamaica. She is the author of the poetry collection 
Cannibal
, winner of a Whiting Writers' Award, the American Academy of Arts and Letters' Metcalf Award in Literature, the OCM Bocas Prize for Caribbean Poetry, and the Prairie Schooner Book Prize in Poetry. Cannibal was selected as one of the American Library Association's Notable Books of the Year, was a finalist for the PEN Center USA Literary Award and the Seamus Heaney First Book Award in the UK and was longlisted for the PEN Open Book Award and the Dylan Thomas Prize.
Language ‏ : ‎

 

English

Hardcover ‏ : ‎

 

352 pages

Item Weight ‏ : ‎

 

1.2 pounds



Dimensions ‏ : ‎

 

6.13 x 1.2 x 9 inches