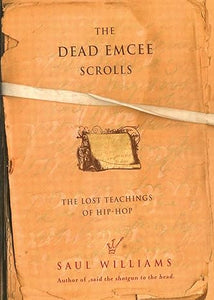 In the underground labyrinths of New York City's subway system, beneath the third rail of a long forgotten line, Saul Williams discovered scrolls of aged yellowish-brown paper rolled tightly into a can of spray paint. His quest to decipher this mystical ancient text resulted in a primal understanding of the power hip-hop has to teach us about ourselves and the universe around us.

Now, for the first time, Saul Williams shares with the world the wonder revealed to him by the Dead Emcee Scrolls.

I have paraded as a poet for years now. In the proc ess of parading I may have actually become one, but that's another story, another book. This book is a book that I have been waiting to finish since 1995. This is the book that finished me. The story I am about to tell may sound fantastic. It may anger some of you who have followed my work. You may feel that you have come to know me over the years, and in some cases you have, but in others...well, this is a confession.
About the Author
Saul Williams is an acclaimed poet, musician, and actor. The film 
Slam
, which he cowrote and starred in, won the Grand Jury Prize at the Sundance Film Festival (1998), and the Camera d'Or at the Cannes Film Festival. He has contributed to 
The
New York Times
, voiced Jean-Michel Basquiat in 
Downtown 81
, and cut records with Rick Rubin and Trent Reznor. He has spoken at more than 200 universities where his poetry has been added to the curriculum of dozens of creative writing programs, and has taught poetry/performance workshops around the world. He recently starred in the Broadway musical 
Holler If Ya Hear Me
. His books include 
S/HE
, ,
said the shotgun to the head
., and 
The Dead Emcee Scrolls.

 
He lives in New York. Visit his website at SaulWilliams.com.
Language ‏ : ‎

 

English

Paperback ‏ : ‎

 

208 pages

Item Weight ‏ : ‎

 

5.1 ounces



Dimensions ‏ : ‎

 

5 x 0.52 x 7 inches