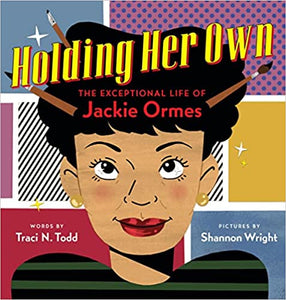 An evocative picture book biography about the prolific life of Jackie Ormes, whose groundbreaking cartoons became some of the first empowering depictions of Black women in America! 
Jackie Ormes made history. She was the first Black woman cartoonist to be nationally syndicated in the United States. She was also a journalist, fashionista, philanthropist, and activist, and she used her incredible talent and artistry to bring joy and hope to people everywhere. But in post-World War II America, Black people were still being denied their civil rights, and Jackie found herself in a dilemma: How could her art stay true to her signature "Jackie joy" while remaining honest about the inequalities Black people had been fighting?
Rising stars Traci N. Todd, author of the Coretta Scott King Honor Book Nina: A Story of Nina Simone, and Shannon Wright, co-creator of the bestselling graphic novel Twins, have crafted a gorgeous and heartfelt tribute to the indelible legacy of Jackie Ormes, whose life and work still influences illustrators and cartoonists today.
About the Author
Shannon Wright is an illustrator and cartoonist based in Richmond, Virginia. She is the co-creator, with Varian Johnson, of 
Twins
, and she illustrated two picture books, 
My Mommy Medicine
 by Edwidge Danticat and 
I'm Gonna Push Through!
 by Jasmyn Wright. Shannon graduated with a BFA from Virginia Commonwealth University, where she co-teaches a comics course during the summer. To learn more, visit her online at shannon-wright.com.

When Chicago native Traci N. Todd was born, her parents decided her initials should stand for dynamite, just like her father's. He raised her on Ray Charles and Nina Simone, and her mother read her every good book. Traci is the author of 
Nina: A Story of Nina Simone
, illustrated by Christian Robinson, and is also a children's book editor. She lives in Queens, New York, with her partner.
Language ‏ : ‎

 

English

Hardcover ‏ : ‎

 

48 pages

Reading age ‏ : ‎

 

7 - 10 years



Grade level ‏ : ‎

 

2 - 5

Item Weight ‏ : ‎

 

1.3 pounds

Dimensions ‏ : ‎

 

10.7 x 0.5 x 11.2 inches