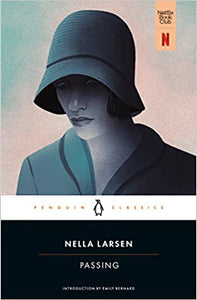 Clare Kendry is living on the edge. Light-skinned, elegant, and ambitious, she is married to a racist white man unaware of her African American heritage, and has severed all ties to her past after deciding to "pass" as a white woman. Clare's childhood friend, Irene Redfield, just as light-skinned, has chosen to remain within the African American community, and is simultaneously allured and repelled by Clare's risky decision to engage in racial masquerade for personal and societal gain. After frequenting African American-centric gatherings together in Harlem, Clare's interest in Irene turns into a homoerotic longing for Irene's black identity that she abandoned and can never embrace again, and she is forced to grapple with her decision to pass for white in a way that is both tragic and telling. This edition features a new introduction by Emily Bernard and notes by Thadious M. Davis.

For more than seventy years, Penguin has been the leading publisher of classic literature in the English-speaking world. With more than 1,700 titles, Penguin Classics represents a global bookshelf of the best works throughout history and across genres and disciplines. Readers trust the series to provide authoritative texts enhanced by introductions and notes by distinguished scholars and contemporary authors, as well as up-to-date translations by award-winning translators.
About the Author
Nella Larsen, one of the most acclaimed and influential writers of the Harlem Renaissance, was born Nellie Walker on April 13, 1891, in Chicago. In the 1910s she came to New York, where she worked as a nurse and a librarian, and in 1919 she married a research physicist. She began publishing stories in the mid-1920s and published her first novel, Quicksand, in 1928. Passing came out the following year. Larsen was awarded a William E. Harmon Bronze Award for Distinguished Achievement Among Negroes and a Guggenheim fellowship. Encountering personal and professional struggles, she was unable to have her third novel accepted for publication and by the end of the 1930s had stopped writing altogether. She worked full time as a nurse until her death in 1964.
 
Emily Bernard is the author of Carl Van Vechten and the Harlem Renaissance: A Portrait in Black and White. Her other books include Remember Me to Harlem: The Letters of Langston Hughes and Carl Van Vechten (2001), which was a New York Times Notable Book of the Year; Some of My Best Friends: Writers on Interracial Friendships (2004), chosen by the New York Public Library as a Book for the Teen Age; and Michelle Obama: The First Lady in Photographs (2009), a book she coauthored with Deborah Willis, which received a 2010 NAACP Image Award. Her essays have been published in several anthologies and journals, such as The American Scholar, Oxford American magazine, The Best American Essays, Best African American Essays, and The Best Creative Nonfiction. She is a professor of English and Critical Race and Ethnic Studies at the University of Vermont.
 
Thadious M. Davis is Geraldine R. Segal Professor of American Social Thought and Professor of English at the University of Pennsylvania and the author of Nella Larsen: Novelist of the Harlem Renaissance. She previously taught at Vanderbilt University, Brown University, and the University of North Carolina at Chapel Hill. She has been a fellow at the Newberry Library in Chicago, the Huntington Library in San Marino, California, and the Center for Scholars and Writers at the New York Public Library. She is the editor of the Penguin Classics edition of Nella Larsen's Quicksand.
Language ‏ : ‎

 

English

Paperback ‏ : ‎

 

160 pages

Item Weight ‏ : ‎

 

4.7 ounces



Dimensions ‏ : ‎

 

5 x 0.42 x 7.7 inches