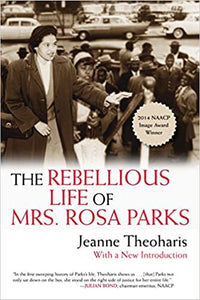 The basis for the documentary of the same name executive produced by award-winning journalist Soledad O'Brien. The Rebellious Life of Mrs. Rosa Parks (on PEACOCK) is the recipient of the 2022 Television Academy Honors.

2014 NAACP Image Award Winner: Outstanding Literary Work–Biography/Autobiography
 
The definitive political biography of Rosa Parks examines her six decades of activism, challenging perceptions of her as an accidental actor in the civil rights movement.

This revised edition includes a new introduction by the author, who reflects on materials in the Rosa Parks estate, purchased by Howard Buffett in 2014 and opened to the public at the Library of Congress in February 2015. Theoharis contextualizes this rich material—made available to the public for the very first time and including more than seven thousand documents—and deepens our understanding of Parks's personal, financial, and political struggles.

Presenting a powerful corrective to the popular iconography of Rosa Parks as the quiet seamstress who with a single act birthed the modern civil rights movement, scholar Jeanne Theoharis excavates Parks's political philosophy and six decades of activism. Theoharis masterfully details the political depth of a national heroine who dedicated her life to fighting American inequality and, in the process, resurrects a civil rights movement radical who has been hidden in plain sight far too long.
About the Author
Jeanne Theoharis
 is Distinguished Professor of Political Science at Brooklyn College of the City University of New York. She received an A.B. in Afro-American studies from Harvard College and a Ph.D. in American culture from the University of Michigan. She is the author or coauthor of six books and numerous articles on the black freedom struggle and the contemporary politics of race in the United States.
Language ‏ : ‎

 

English

Paperback ‏ : ‎

 

296 pages

Item Weight ‏ : ‎

 

1.18 pounds



Dimensions ‏ : ‎

 

6 x 1 x 9 inches