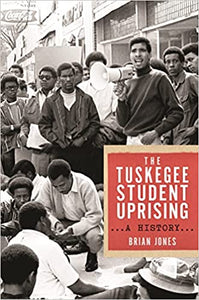 The untold story of a dynamic student movement on one of the nation's most important historically Black campuses

The Tuskegee Institute, one of the nation's most important historically Black colleges, is primarily known for its World War II pilot training program, a fateful syphilis experiment, and the work of its founder, Booker T. Washington. In The Tuskegee Student Uprising, Brian Jones explores an important yet understudied aspect of the campus's history: its radical student activism.

Drawing upon years of archival research and interviews with former students, professors, and administrators, Brian Jones provides an in-depth account of one of the most dynamic student movements in United States history. The book takes the reader through Tuskegee students' process of transformation and intellectual awakening as they stepped off campus to make unique contributions to southern movements for democracy and civil rights in the 1960s. In 1966, when one of their classmates was murdered by a white man in an off-campus incident, Tuskegee students began organizing under the banner of Black Power and fought for sweeping curricular and administrative reforms on campus. In 1968, hundreds of students took the Board of Trustees hostage and presented them with demands to transform Tuskegee Institute into a "Black University." This explosive movement was thwarted by the arrival of the Alabama National Guard and the school's temporary closure, but the students nevertheless claimed an impressive array of victories. Jones retells these and other events in relation to the broader landscape of social movements in those pivotal years, as well as in connection to the long pattern of dissent and protest within the Tuskegee Institute community, stretching back to the 19th century. A compelling work of scholarship, The Tuskegee Student Uprising is a must-read for anyone interested in student activism and the Black freedom movement.
About the Author
Brian Jones
is the Director of The New York Public Library's Center for Educators and Schools.
Language ‏ : ‎

 

English

Hardcover ‏ : ‎

 

264 pages

Item Weight ‏ : ‎

 

1 pounds



Dimensions ‏ : ‎

 

6.1 x 1.2 x 9.1 inches