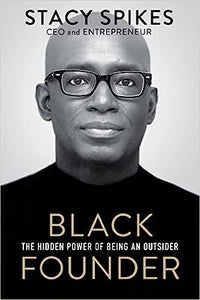 At the intersection of power, technology, and race, Stacy Spikes, award-winning entrepreneur and founder of MoviePass, reveals the tools he's used to persevere in the face of adversity, defy stereotypes, and shatter glass ceilings. BLACK FOUNDER is both an empowering memoir of a trailblazing business leader and an unflinching look at what it means to be Black and ambitious in the upper echelons of record labels, movie studios and tech startups – with practical steps on how to overcome prejudice and build your own success.

Stacy Spikes knows what's it like to be an outsider. He certainly knew he didn't fit the mold of a successful future tech entrepreneur. But he marshaled his resilience and ultimately set out to shatter that mold—along with the glass ceiling that came with it. Finding his footing in the tech world was an education in the complexities of being an outsider—but as Stacy came to see, rather than a hindrance, it afforded him a unique position of power.

Beginning as a film studio gopher, Spikes quickly rose through the industry ranks, being named one of the Hollywood Reporter's 30 Under 30. Still, he was an outsider looking in. So he set out to make his own dreams a reality. Defying expectations, Spikes effectively disrupted the status quo and reinvented himself from junior executive to CEO Tech Founder. What ensued was an escalating adventure with bigger stages, bigger risks, and a roller-coaster ride of exhilarating ascent—unpredictable collapse—and a story book return. 

Now Spikes shares his challenges, pitfalls, and keys to personal and professional fulfillment. He shows how the seemingly impossible can be overcome by having faith in oneself and creating from a place of confidence. Taking readers inside the battles of the boardroom and beyond, Black Founder is a business memoir that will inspire every outsider who has a dream.
About the Author
Stacy Spikes
 is an award-winning entrepreneur, co-founder and co-chairman of MoviePass, founder of the Urbanworld Film Festival, and a former film marketing executive and producer. Named by 
USA Today
as one of the 21 most influential Blacks in technology, Spikes is also the founder and CEO of PreShow Interactive, a branded content app that rewards gamers for watching long-form video content. In his senior executive roles at Motown Records, Sony Music Entertainment, and Miramax, he worked some of the biggest names in entertainment, including Boyz II Men, Stevie Wonder, Spike Lee, Queen Latifah, and Eddie Murphy. Spikes is originally from Houston, Texas and now lives New York City with his wife and daughter.
Language ‏ : ‎

 

English

Hardcover ‏ : ‎

 

256 pages

Item Weight ‏ : ‎

 

1.25 pounds



Dimensions ‏ : ‎

 

6.19 x 0.94 x 9.27 inches