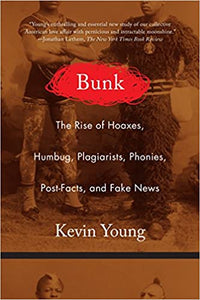 Has the hoax now moved from the sideshow to take the center stage of American culture?
The award-winning poet and critic Kevin Young traces the history of the hoax as a peculiarly American phenomenon―the legacy of P. T. Barnum's "humbug" culminating with the currency of Donald J. Trump's "fake news." Disturbingly, Young finds that fakery is woven from stereotype and suspicion, with race being the most insidious American hoax of all. He chronicles how Barnum came to fame by displaying figures like Joice Heth, a black woman whom he pretended was the 161-year-old nursemaid to George Washington, and "What Is It?," an African American man Barnum professed was a newly discovered missing link in evolution.
Bunk then turns to the hoaxing of history and the ways that forgers, plagiarists, and frauds invent backstories and falsehoods to sell us lies about themselves and about the world in our own time, from the pretend Native Americans Grey Owl and Nasdijj to the deadly imposture of Clark Rockefeller, from the made-up memoirs of James Frey to the identity theft of Rachel Dolezal. This brilliant and timely work asks what it means to live in a post-factual world of "truthiness" where everything is up for interpretation, and everyone is subject to a contagious cynicism that damages our ideas of reality, fact, and art.
About the Author
Kevin Young
 is the author of a previous book of nonfiction, 
The Grey Album
, a 
New York Times
 Notable Book, and of eleven books of poetry. He was the director of the Schomburg Center for Research in Black Culture and the poetry editor for 
The New Yorker
. Since 2021, he is the Director of the Smithsonian Institution National Museum of African American History and Culture.
Language ‏ : ‎

 

English

Paperback ‏ : ‎

 

576 pages

Item Weight ‏ : ‎

 

1.9 pounds



Dimensions ‏ : ‎

 

6.23 x 1.45 x 9.08 inches