Collection:

Malcolm X Remembered
Each year, the Schomburg Centers celebrates the life of Malcolm X during Black History Month – coinciding with the anniversary of his assassination on February 21, 1965.
This year our virtual program, Mother Tongue: The Philosophy of Malcolm X, on Monday, Feb. 22,  will feature a conversation and presentations by Anna Malaika Tubbs, author of The Three Mothers: How the Mothers of Martin Luther King Jr., Malcolm X and James Baldwin Shaped a Nation and Dr. Michael Sawyer, author of Black Minded: The Political Philosophy of Malcolm X. Together, in conversation with Dr. Imani Perry, author of Breathe: A Letter to My Sons, the authors will explore various aspects of Malcolm's political philosophy. 
Find these 3 amazing books and more about Malcolm X at Schomburg Shop.
Malcolm X Magnet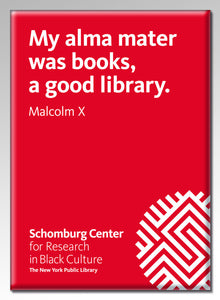 The Three Mothers: How the Mothers of Martin Luther King, Jr., Malcolm X, and James Baldwin Shaped a Nation
The Autobiography of Malcolm X