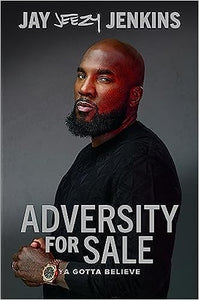 To Jeezy's legion of fans, his name is synonymous with hustle, grit, and the integrity to go out there and achieve your dreams. In his first book, Adversity for Sale: Ya Gotta Believe, Jeezy shares never heard stories of what it took for him to beat the odds and get out of the streets, his mindset he carefully honed to get an edge, and the lessons that changed his life and business. 
Jay 'Jeezy' Jenkins is coming to Schomburg Center for an Exclusive Conversation & Book Signing with Charlamagne tha God: Wednesday, August 9. Doors open at 6 PM. Register for this ticket holders only event here. 
Born into poverty and raised in a small town in the middle of South Georgia's so-called "Black belt," Jeezy realized at an early age that nothing was going to come easy, there were no handouts headed his way, and if he ever wanted anything in life, he was going to have to get out there and get it on his own. So that's what he did. 
Now, for the first time, Jeezy retraces his steps, going back to day one to share how he turned nothing into something, stayed solid, survived the trap, and triumphed over adversity to become the successful artist, father, husband, entrepreneur, and philanthropist that he is today. 
Adversity for Sale isn't a street memoir. Like his music, these pages are filled with lessons from his deeply personal story to motivate you to go out and get after your dream.
About the Author
Jay "Jeezy" Jenkins is a Grammy-nominated, multi-platinum recording artist, businessman, entrepreneur and philanthropist.
Language ‏ : ‎

 

English

Hardcover ‏ : ‎

 

272 pages

Item Weight ‏ : ‎

 

13.8 ounces



Dimensions ‏ : ‎

 

6.34 x 0.88 x 9.25 inches