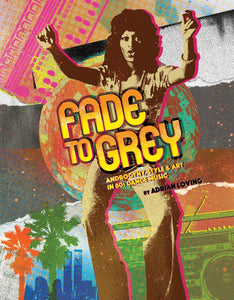 Fade To Grey is an insightful collection of essays and interviews about the influential decade of the 1980s and its cultural impact on the expansion of gender, art, and music. Legendary artists such as Andy Warhol and Richard Bernstein — and musicians including David Bowie, Grace Jones, Sylvester, and Prince — are featured along with a unique glimpse into the birth of club culture in America. Rare photographs, flyers, and oral histories from the pioneers of dance music: Frankie Knuckles, Ron Hardy, Robert Williams, Ken Collier, Ron Trent, and Danny Krivit. These icons give context to disco, house, and electronic music, born in Chicago, New York, and Detroit in the late 70s and exploding onto the scene in the 80s. 
Fade To Grey offers cultural exploration and analysis from Michael A. Gonzales, Tonya Pendleton, Joshua Gamson, Vikki Tobak, Peggy Parsons, and Vernon Reid — all expanding on the important contributions of LGBTQ, African-American, Latino, and women in the mediums of art, fashion, and music production. Fade To Grey also features the beautiful photographic work of Bill Bernstein, Tina Paul, Chris Stein, Alexis Adler, Drew Carolan, and many others. Fade To Grey offers far more than a casual read with stunning photos. It is a coffee table fixture and educational text that takes the reader on a deep journey into the sacrifices and challenges of the artist, and arrives at the important intersection of gender identity, politics, and the passion for music!
Text(s) by Carol Cooper, Ph.D., Michael A. Gonzales, Margaret Parsons, Miles Marshall Lewis, Tonya Pendleton, Wendy Vogel, Laina Dawes, John Murph, Sam Davies, Vikki Tobak, Marcus Barnes, Paul Hanford, Alia Benabdellah, Joshua Gamson, and Adrian Loving
Photos by Drew Carolan, Neil Zlozower, James Van Der Zee, Tina Paul, Bill Bernstein, Allen Tannenbaum,  Christopher Cushman, Derek Ridgers, Chris Stein, Katherine Bourbeau, Charles Chambliss, Janette Beckman, David Spitzer, Alexis Adler, Charlie Ahearn, Oggi Ogburn, Clay Geerdes, Ebet Roberts, Dave Bausman, Marie Staggat, Anthony Barboza, Michael Putland, Michael Benabib, Bart Everly, David Corio, Thomas O'Halloran, Dan Cuny, Reginald Corner, and Oliver Grabowski
About the Author
Adrian Loving is a noted visual arts educator, cultural historian, and DJ. Over the course of his 20+ year career, Loving has curated art exhibitions and public programming at museums and cultural institutions; including the Smithsonian's Hirshhorn Museum & Sculpture Garden, National Museum of African Art (NMAFA), The National Portrait Gallery, and The National Gallery of Art. Loving's active participation at music festivals, art fairs, and conferences have further developed his unique perspective on contemporary pop-culture and issues of historical importance. 
As a DJ, Adrian has been invited to perform at renowned events and cultural spaces throughout Washington, DC, and abroad, including The White House Correspondents Dinner, The National Gallery of Art Press openings, The Library of Congress, and Worldwide Festival. Each experience synthesizes his love and passion for music in unique ways to create sonic experiences on the dancefloor and in creative spaces. Adrian has traveled extensively and performed in the UK, Malta, Spain, Greece, Italy, and South Africa. Loving will appear in the 2021 PBS documentary Making Black America. 
Loving currently maintains a full-time faculty position as an Instructor of Visual Art, at Georgetown Day School in Washington, DC. Prior to his current role, he served as an Adjunct Professor of Art and Graphic Design at the University of Maryland-College Park and Howard University.
Language: English
Size: 8" x 10"
362 Pages