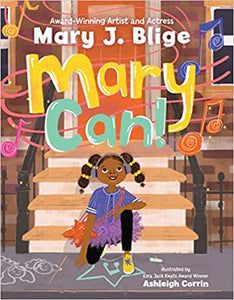 From multi-award-winning singer, artist, actress, and icon Mary J. Blige comes a fun and inspirational story that teaches young readers they can be anything, and they are enough.
Most of the time, people say "no" or "you can't" because they dream too small.
Young Mary has been told that there are many things she can't do. Like stay up past bedtime, or be an astronaut or become president. But what she really wants is to sing, and she isn't about to let anyone tell her she can't do it!
A powerful motivating tale about a confident and ambitious girl who doesn't feed into negativity, this debut children's book from legendary artist Mary J. Blige proves that anyone can make their dreams come true by believing in themselves. It's a great conversation starter for overcoming discouragement from others.
Brought to life with imaginative illustrations by Ezra Jack Keats Award-winning illustrator Ashleigh Corrin, Mary Can! is perfect for go-getters who aren't afraid to be a YES in a world full of NOs.
About the Author
Mary J. Blige is an award-winning singer, songwriter, actress, producer, and entrepreneur, and is one of the defining voices of our generation. With a track record of eight multiplatinum albums, nine Grammy Awards (and over thirty nominations), an Emmy Award, two Academy Award nominations, two Golden Globe nominations, a SAG nomination, and multiple honors, including a BET Lifetime Achievement Award, a Billboard Icon Award, and a Time 100 honor, Blige has cemented herself as a global superstar. She has starred in several film and television projects (including Netflix's Mudbound and STARZ' Power) and has performed on the world's largest stages, but the role she loves most is being a motivator to girls, women, and people who dare to dream big.
Ashleigh Corrin is an award-winning children's book illustrator. Her debut illustrated book, Layla's Happiness, written by Mariahdessa Ekere Tallie, received the 2020 Ezra Jack Keats Illustrator Award, as well as the Writer Honor. Her appreciation for philanthropic work and acts of service shaped her dream of creating art to uplift and inspire youth and the young at heart. Ashleigh lives in Virginia with her daughter and her husband. More of her work can be viewed at www.ashleighcorrin.com or on instagram (@ashleigh_corrin).
Language ‏ : ‎

 

English

Hardcover ‏ : ‎

 

40 pages

Reading age ‏ : ‎

 

4 - 8 years



Grade level ‏ : ‎

 

Preschool - 3

Item Weight ‏ : ‎

 

13.9 ounces

Dimensions ‏ : ‎

 

9 x 0.25 x 11.25 inches