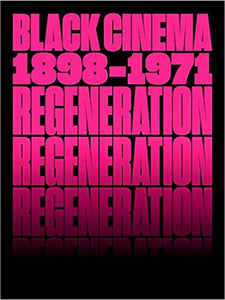 The overlooked yet vibrant history of Black participation in American film, from the beginning of cinema through the civil rights movement.
From the dawn of the medium onward, Black filmmakers have helped define American cinema. Black performers, producers and directors―Bert Williams, Oscar Micheaux, Herb Jeffries, Lena Horne, Dorothy Dandridge, Ruby Dee and William Greaves, to name just a few―had a vast and resounding impact. Black film artists not only developed an enduring independent tradition but also transformed mainstream Hollywood, fueled and reflected sociopolitical movements, captured Black experience in all its robust complexity, and influenced generations to come. As harrowing as it is beautiful, this history of Black cinema and its legacy is often overlooked.
Regeneration accompanies a first-of-its-kind exhibition at the Academy Museum of Motion Pictures exploring seven decades of Black participation in American cinema. Amplifying this underrepresented history in colorful and striking detail, the book features an in-depth curatorial essay and scholarly case-study texts on topics such as early Black independent filmmaking, Black spectatorship during the Jim Crow era and home movies as an essential form of Black self-representation. The volume also makes meaningful connections to the present through interviews with award-winning contemporary Black filmmakers Charles Burnett, Julie Dash, Ava DuVernay, Barry Jenkins and Dawn Porter. An extensive filmography and chronology offer an essential resource for anyone interested in Black cinema, while images of contemporary visual artworks further illustrate the volume throughout.
Includes a contribution by Shola Lynch, the Schomburg Center's Curator of Moving Image and Recorded Sound.
Language ‏ : ‎

 

English

Hardcover ‏ : ‎

 

288 pages

Item Weight ‏ : ‎

 

4.32 pounds



Dimensions ‏ : ‎

 

9.5 x 1 x 12.5 inches