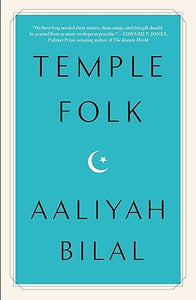 Finalist for the 2023 National Book Award for Fiction

A groundbreaking debut collection portraying the lived experiences of Black Muslims grappling with faith, family, and freedom in America.

In Temple Folk, Black Muslims contemplate the convictions of their race, religion, economics, politics, and sexuality in America. The ten stories in this collection contribute to the bounty of diverse narratives about Black life by intimately portraying the experiences of a community that resists the mainstream culture to which they are expected to accept and aspire to while functioning within the country in which they are born.

In "Due North," an obedient daughter struggles to understand why she's haunted by the spirit of her recently deceased father. In "Who's Down?" a father, after a brief affair with vegetarianism, conspires with his daughter to order him a double cheeseburger. In "Candy for Hanif" a mother's routine trip to the store for her disabled son takes an unlikely turn when she reflects on a near-death experience. In "Woman in Niqab," a daughter's suspicion of her father's infidelity prompts her to wear her hair in public. In "New Mexico," a federal agent tasked with spying on a high-ranking member of the Nation of Islam grapples with his responsibilities closer to home.

With an unflinching eye for the contradictions between what these characters profess to believe and what they do, Temple Folk accomplishes the rare feat of presenting moral failures with compassion, nuance, and humor to remind us that while perfection is what many of us strive for, it's the errors that make us human.
About the Author
Aaliyah Bilal was born and raised in Prince George's County, Maryland. She has degrees from Oberlin College and the University of London School of Oriental and African Studies. She's published stories and essays with 
The Michigan Quarterly Review
 and 
The Rumpus

. 

Temple Folk
 is her first short story collection.
Language ‏ : ‎

 

English

Hardcover ‏ : ‎

 

256 pages

Item Weight ‏ : ‎

 

12 ounces



Dimensions ‏ : ‎

 

5.5 x 1 x 8.38 inches