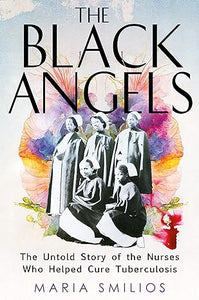 New York City, 1929. A sanatorium, a deadly disease, and a dire nursing shortage.

In the pre-antibiotic days when tuber­culosis stirred people's darkest fears, killing one in seven, white nurses at Sea View, New York's largest municipal hospital, began quitting en masse. Desperate to avert a public health crisis, city officials summoned Black southern nurses, luring them with promises of good pay, a career, and an escape from the stric­tures of Jim Crow. But after arriving, they found themselves on an isolated hilltop in the remote borough of Staten Island, yet again confronting racism and consigned to a woefully understaffed sanatorium, dubbed "the pest house," where it was said that "no one left alive."

Spanning the Great Depression and moving through World War II and beyond, this remarkable true story follows the intrepid young women known by their patients as the "Black Angels." For twenty years, they risked their lives work­ing under appalling conditions while caring for New York's poorest residents, who languished in wards, waiting to die, or became guinea pigs for experimental surgeries and often deadly drugs. But despite their major role in desegregating the New York City hospital system—and their vital work in helping to find the cure for tuberculo­sis at Sea View—these nurses were completely erased from history. The Black Angels recovers the voices of these extraordinary women and puts them at the center of this riveting story, celebrating their legacy and spirit of survival.
About the Author
Maria Smilios
 learned about the Black Angels while working as a science book editor at Springer Publishing. As a native New Yorker and lover of history, medicine, and women's narratives, she became determined to tell their story. In addition to interviewing historians, archivists, and medical professionals, she spent years immersed in the lives and stories of those close to these extraordinary women. Maria holds a master of arts in religion and literature from Boston University, where she was a Luce scholar and taught in the religion and writing program. In her free time, she enjoys reading, hiking, and hanging out with her tween daughter and their rescue dog, Buddy. 
The Black Angels
 is her first book.
Language ‏ : ‎

 

English

Hardcover ‏ : ‎

 

448 pages

Item Weight ‏ : ‎

 

1.48 pounds



Dimensions ‏ : ‎

 

6.21 x 1.39 x 9.22 inches