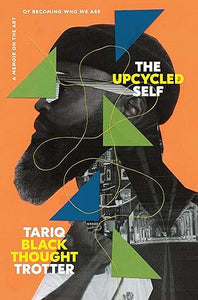 From one of our generation's most powerful artists and incisive storytellers comes a brilliantly crafted work about the art—and war—of becoming who we are.

upcycle verb
up·cy·cle ˈəp-ˌsī-kəl
: to recycle (something) in such a way that the resulting product is of a higher value than the original item
: to create an object of greater value from (a discarded object of lesser value)

Today Tariq Trotter—better known as Black Thought—is the platinum-selling, Grammy-winning co-founder of The Roots and one of the most exhilaratingly skillful and profound rappers our culture has ever produced. But his story begins with a tragedy: as a child, Trotter burned down his family's home. The years that follow are the story of a life snatched from the flames, forged in fire.

In The Upcycled Self, Trotter doesn't only narrate a riveting and moving portrait of the artist as a young man, he gives readers a courageous model of what it means to live an examined life. In vivid vignettes, he tells the dramatic stories of the four powerful relationships that shaped him—with community, friends, art, and family—each a complex weave of love, discovery, trauma, and loss.

And beyond offering the compellingly poetic account of one artist's creative and emotional origins, Trotter explores the vital questions we all have to confront about our formative years: How can we see the story of our own young lives clearly? How do we use that story to understand who we've become? How do we forgive the people who loved and hurt us? How do we rediscover and honor our first dreams? And, finally, what do we take forward, what do we pass on, what do we leave behind? This is the beautifully bluesy story of a boy genius's coming-of-age that illuminates the redemptive power of the upcycle.
About the Author
Tariq Trotter, aka Black Thought
, is one of the most powerful voices in hip-hop. Winner of three GRAMMY® Awards and three NAACP Image Awards, he has delivered eleven albums with The Roots and leads the house band on 
The Tonight Show Starring Jimmy Fallon
. His albums outside of The Roots include the three volumes of 
Streams of Thought, Cheat Codes 
(with Danger Mouse), and 
Glorious Game
(with El Michels Affair). He co-wrote, co-composed, and starred in the Off-Broadway play 
Black No More
 and boasts acting credits in 
The Deuce
and 
Tick, Tick . . . Boom!,

 
among 
others. With Questlove, Trotter launched the production company Two One Five Entertainment, home to 
Hip-Hop: The Songs That Shook America, Descendant,
 and others.
Language ‏ : ‎

 

English

Hardcover ‏ : ‎

 

208 pages

Item Weight ‏ : ‎

 

15.2 ounces



Dimensions ‏ : ‎

 

5.75 x 0.85 x 8.55 inches